Please be advised we are due a server upgrade on the 9th & 10th of November. This means our computer system will be down both days - please only contact the surgery on these days if you have an urgent problem/emergency. We will be back to normal working on the 11th of November.
---
The Winter Vaccination Programme will start in September 2021.
The way you get your flu vaccine this year has changed.
You can find out if you're in a priority group eligible for a flu vaccine on NHS inform
You will not get your vaccine at your GP surgery
People aged 70 or over will now be sent a letter by the national booking system with details of an appointment at a vaccination centre.
From now on, GP practices will not administer the Flu jab. Across Scotland, Health and Social Care Partnerships are taking on this role in line with the GP Contract agreed by BMA Scotland on behalf of Scottish GPs. This change has been agreed to relieve pressure on GP practices. As a result your local practice will not offer any flu vaccinations or handle any booking queries for people in eligible groups.
Instead, the flu vaccine will be delivered by the four Health and Social Care Partnerships in Lothian - East Lothian; Midlothian; Edinburgh and West Lothian.
If you require further information or you need to rearrange your appointment, please contact the helpline on your appointment invitation or the local enquiry line on 0300 790 6296.
You can find out more on the websites of the Health and Social Care Partnerships or on NHS Inform
Please don't phone the practice as we don't have any additional information for the moment.
Welcome to St Triduana's Medical Practice
We remain available for both routine and urgent care during the COVID19 pandemic. However, we have had to make some changes to the way we provide services to protect patients and staff:
All our appointments are now by telephone initially, and patients will be seen subsequently at the practice only if required. Please phone our patient advisors on 0131 657 3341 to book a telephone appointment; we have morning or afternoon appointments but cannot give you an exact time. Most things can wait for the next available routine slot, however, if you feel your problem is very urgent please let the advisor know. The advisor will ask for a brief description of your problem to allow them to best deal with it, thank you for providing this. We are not accepting bookings online or at the reception desk, so please call us instead.
Please DO NOT come to the practice unless we have asked you to come. We are only seeing patients face to face if necessary for an examination or nursing procedure.
Please DO NOT come to the Surgery with requests for repeat medication. Requests can be made via online "Patient Access" website or app, submitting a request to a local pharmacy or putting your request in our letterbox outside. Please DO NOT come to the surgery to collect prescriptions either. Please indicate with your request which chemist you use, and we would be happy to send it there for you to collect.
Please wear a Face Covering over your nose and mouth if you have been asked to attend the practice.
Please be aware that COVID symptoms are similar to what you can get for other illnesses. Follow the link below to recognise what are COVID related symptoms.
https://www.gov.scot/publications/coronavirus-covid-19-management-of-urgent-suspicion-of-lung-cancer-referrals/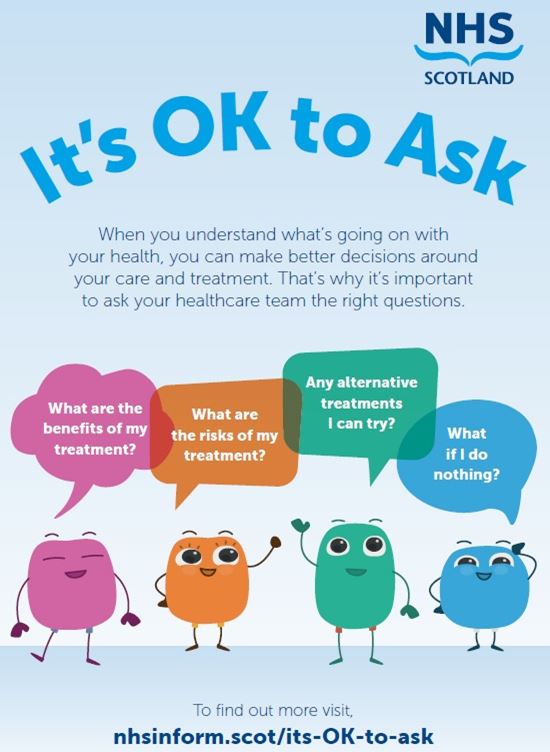 Keep up to date with the latest practice news